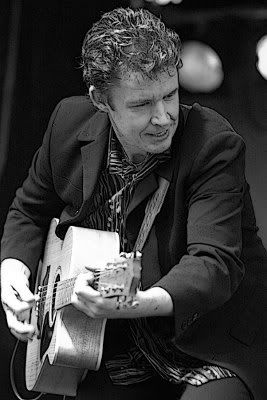 Early life, how you arrived at guitar?
I had a cousin who used to sing and play basic things but I just loved the
sound of the guitar.
You have a pretty interesting life story, about how a hunting accident and subsequent illness seriously challenged your physical abilities to play the instrument. Mind detailing that for our readers? It's pretty
inspirational.
It was am amazing thing to lose complete feeling in my left arm as my
whole world was playing guitar and music. Maybe having had that taken away
from me for a period of time makes me appreciate more, even to this day
what a great gift it is. I've actually been doing after dinner speaking
about my life and how you can use adversity to strengthen your resolve.

What other musicians do you find inspire your composing?
Composers like Ennio Moriccone, Abdullah Ibrihim (African pianist), Roger
Waters. I love music that takes me away and not necessarily just guitar
music.

Five albums. What are they?
The Wall - Pink Flloyd
Leo Kottke - My Father's Face
The Mission Soundtrack - Ennio Moriccone
Absolution - Muse
Buena Vista Social Club

What interests do you have away from playing music?
Motorbike riding
Travelling Overseas
Jogging, meditation, keeping fit - inside and out

Mind doing a gear rundown, preferred guitars, strings, effects, etc?
Ayers Nylon String Guitar
Cole Clark Steel String
Elixer Strings
Zoom reverb and delay
Boss Loop Pedal

Are composers born or made?
Probably born but lifes dramas can develop you into a composer.
If you could drop everything you're doing and go do one thing, what would it be?
Travel the world on my motorbike and play guitar.
Any shoutouts, tour dates, media, albums, etc?
Currently recording a new album and I know it's my best ever. There's just
something going on with this one that feels so right. Off to Nashville to
play at the Chet Atkins Guitar Festival. Then to Vietnam to film another
episode in my Rhythm Hunter doctumentary series.More guitar, always
touring, more practice as there is always something to learn.
«
Back To Home