This month's featured artist, Stefano Barone, was born on the cusp of Generations X and Y and like your humble editor, grew up in the 1980s.
That era doesn't feel like it was very long ago but apparently, per the neck binding on this Charvel- which has now yellowed to take on the distinctive 'antique plastic' hue once only associated with Strats from the early 1960's...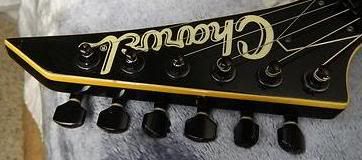 ...yeah, the 80's are officially "a long time ago."
Ours is the very last generation to have lived a meaningful portion of our lives outside the glowering influence of internet, yet the first (and only) generation to have grown up right alongside it from the very beginning.
We're the last group to remember adult life before 9.11.01 commenced the 'new world' we're presently in, that's yet to be fully defined.
We may be equally amused by an 8 bit Nintendo game of Mario Brothers as we are playing HALO on XBox.
We fondly remember the freedom of life without cel phones, yet we're the weirdos seen in sleeping bags outside the Apple store on launch day.
We watched as the paradigm shifted and commercial music entered a terminal decline (shout-out to those of us here who remember 'record stores' as a shopping mall anchor-store standard. Actually, shout-out to those of us who remember "shopping malls").
We saw country sell its soul, hip-hop find its groove and, tragically, with those first 'eight strangers, picked to live in a house...' we witnessed the death of M on MTV.
For the Gen Y guitarists, our formative years were the years of shred- of Eddies and Yngwies and Satches and Vais. If Hendrix was the first to beg the question of just how far the instrument could be taken, it was the guitar superheroes of the 1980's who stepped up to offer something resembling an answer.
They were (and still are) my personal heroes and no matter how hard I try to shake it, I cannot get away from the hold that 'high technique' has on my soul. I remember Guitar Center in the 80's when the hair was long, testosterone high and for many, the exercise known as 'playing guitar' was neatly simplified into a struggle between you, an arpeggio and 180 beats per minute.
Still, in the heady, technical cocktail of speed and classic form, things can get lost, or at least temporarily set aside. There really is no standard musical formula that achieves universal, emotional quanta in all people. Some are totally cool with technique for technique's sake but for the most part, musicality is what gets attention; deservedly so. As a semi-reformed technical kook, I occasionally need a slap in the face, to remind me just what it's all about.
Stefano's cut of "Alexander Supertramp / Batman" was a Huggy Bear backhand. Truly, one of the Seven Wonders of the Fingerstyle World and a pretty damn good reminder that at the end of the day, it always boils down to the sounds.
We present nine with Stefano Barone.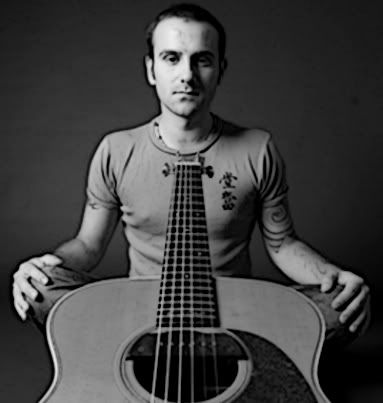 Early life, personal background, etc?

I was born in Naples, a city 'where the music lives on every street corner.
My parents listened to and played such beautiful music, so I lived with it a daily and natural.
I began studying the piano at 11 years but I was not a prodigy ...

What lead you to the guitar?

Thieves hit home, took all the tools but they left an old guitar.
I did not have much choice. :)

Your amazing piece, Alexander Supertramp / Batman, has achieved pretty significant Youtube success, breaking the 2mm view mark. Mind discussing what inspired you to write it?

I wrote this song after seeing "Into the Wild," a film directed by Sean Penn and based on the story of
Christopher McCandless. I have forwarded more specific searches, and I was very inspired by his story.
Christopher called himself Alexander Supertramp.

What effects/gear did you use for that song?

In the youtube video i use a tc electronic g-natural. The effects are a compressor, a ping pong delay (stereo) and hall reverb.

So, we hear you have a new album coming out? Any details on that?

The new work is called DanzeAltalenanze and will come out on April 17 with the Candyrat Records. An electro acoustic project with different directions, focusing on pholyrhythm, played with an acoustic guitar. I will not reveal much because I'm superstitious!

Speaking of albums, one of our standard questions is to ask featured artists to pick 5 albums, any albums. So; 5 albums, what are they?

-KIND BLUE (M.Davis)
-ABBEY ROAD
-THE DARK SIDE OF THE MOON
-AERIAL BOUNDARIES (M.Hedges)
-DRUMMING(Steve Reich)

Anyplace in Italy you can recommend that's a 'must see', but not otherwise spoiled by heavy tourism?

Tourism in Italy, they're anywhere... Perhaps in Basilicata (Forastiere was born there) there is not too much tourism and a is beautiful region.

Musically speaking, who influences you?

Well, I would put a lot of names. I do listen to every genre of music, from Prince to King Krimson. Guitarists who have influenced me more are definitely Sergio Altamura. Pino Forastiere. Alex de Grassi. Dominic Frasca. Michael Hedges and Egberto Gismonti.

Italy is a real hotbed of high level guitar/compositional talent. Any other Italian players that we might
not have heard of, but should have?

there are many who deserve more listens. I was very impressed by the new work of Danilo Di Prizio.
A boy full of talent. Not only on the six strings.


«
Back To Home