We will be returning to our roots over the coming months, reorienting the interviews back towards regional, up and coming, underappreciated fingerstyle artists. For the month of March, we present a fingerstylist who submitted a video and from that, reminded us of what the original intent of this site has always been. The site was built for artists precisely like this.
Nine questions with someone who you'll be hearing more from in the years to come, Patrick Meyer.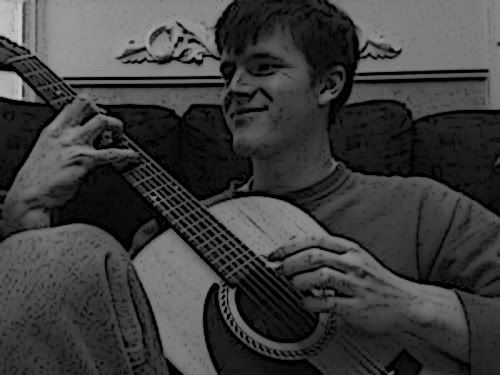 Early life, personal background?

I grew up in Vancouver, Washington and began playing the guitar around
the age of twelve. I played lots of video games as a child and took Irish
dancing lessons for a while. As a dancer, I competed nationally and
internationally and did quite well. Eventually, I lost interest in Irish
dancing and moved towards the guitar and apparently picked it up very
quickly. Within a few months I performed "Eruption" by Eddie van Halen at
my eighth grade talent show on a homemade amplifier that my brother made. I
remember playing it pretty accurately. Anyway, I basically progressed in a
typical shred guitar way but pretty quickly became more interested in
flatpicking classical music on an acoustic guitar. I continued in this way
for another 8 years or so until I developed an excellent flatpicking
technique and decided to move to fingerstyle.

What was the musical path that lead you to fingerstyle?

Well, going from shred to acoustic flatipicking, and taking this
about as far as it would go, I just realized that flatpicking techniques,
no matter how good you get, are melodically linear as far as what you can
technically play goes. Playing two or three separate voices is common in
fingerstyle guitar and arpeggiating chords and melodies becomes a lot less
of a burden on the right hand with a good fingerstyle technique as opposed
to flatpicking. Basically, I was never quite able to play what I heard in
my head until I developed a bit of right hand technique, and I still feel
like I have a long way to go, technically speaking, before I reach where I
was with my flatpicking.

Away from guitar, what do you like to do?

Well, I really love math! Honestly, if something happened to my hands
and I wasn't able to play, I'd probably go to school to study math. Other
than that, I love running, and practicing the guitar.

What other guitar players inspire you?

Early influences were Van Halen, Yngwie, Jason Becker, Michael Angelo
Batio, all the major shredders. In the past few years it's been, Paco de
Lucia, Guthire Govan, Ewan Dobson, Yamandu Costa, and about 50 classical
guitarists.

Five albums. What are they?

The Art of Fugue for string quartet, Liszt's Transcendental Etudes,
Godowsky's Studies on Chopin's Etudes performed by Marc Andre Hamelin, the
complete violin partitas and sonatas by Bach, Paganini Etudes by Liszt

Being a younger guy, what are your thoughts on the current state of
'popular' music?

Honestly, I like most of what I hear. I used to think I was really
knowledgeable and selective of what "good" music was, but I can't really
deny that I just like most of what I hear. That being said, there's a lot
of garbage out there, regardless of the genre.

Mind doing a gear rundown, what guitars/amps/etc you use?

Currently, I play a Taylor DN4 acoustic with medium Phosphor Bronze
Elixir strings. I have a Fishman Rare Earth Pickup and a Roland AC-33
battery powered acoustic amp. A seriously awesome project underway is the
construction of my 8 string guitar. The build process can be seen (here) and I highly
recommend checking out the rest of the website and even getting in touch
with Jay. He's an excellent luthier and a really wonderful guy.

Beaches or Mountains?

Beaches, as they are a source of food, usable space and water that
mountains just aren't.

Shoutouts, venue dates, etc?

I'm currently living in Seattle, WA and busk down at the Westlake
center almost everyday. Come see me sometime!
«
Back To Home