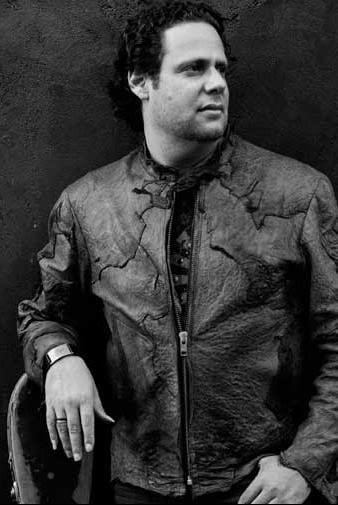 Early life, how you initially arrived at the instrument?
Although I was born in Israel, I grew up in Malaga and Granada, Spain.
There, I was constantly surrounded by the sounds of flamenco and the
guitar. My father played as well and was my first teacher at the age of
eight. At the age of 7 my parents left me for 2 months with a gypsy family
in the caves of the Sacromonte, in Granada. They were the family of the
famous dancer Mario Maya, with whom we had a close relationship with. He
passed away barely two years ago. I was adopted by the familia Heredia in
the Sacromonte and was treated as one of the kinds. There were 4 children,
the daughter danced, one son sang, one played the guitar and one was still
a baby. I would spend endless days and nights walking around in this
musical wonderland looking opposite the famous Alhambra Palace, built by
the Morse in the 8th century. At Age 9 I got my first gig playing in the
"Cueva del Rocio", a cave that would have performances for the tourists.
I learned by playing for dancers and singers while following and imitating
the first guitarist. I learned with a whole bunch of different gypsies in
Granada, one day from this guy one day from that guy. Some were
professional some just "armatures" but they all knew a lot and taught me
generously. I soaked it all up like a sponge as a kid, with out too much
thinking, just doing.
Later I went to England and studied classical guitar at the Whatford School
of Music. My whole life I went back and forth between flamenco and
classical, trying to balance them out and learn from both.
General outline of your career trajectory and development as a player
up to now?
When I was 19 I interrupted my classical guitar studies at the Royal
Northern College of Music in Manchester, England, and went back to Spain
again, to live with my father in Madrid this time. I lived there for 7
years, where I played with my father (Cymbalom) a fusion of flamenco and
Rumanian gypsy music etc. I also played with the late great flamenco singer
Enrique Morente at the Teatro Real in Madrid, with the Madrid Symphony
Orchestra and at the Teatro Manuel de Falla, in Granada. Madrid is where I
began my hands on training and did a lot of concertizing and composing. At
19 I had my first burst of compositional inspiration. I created new
alternate tunings on the guitar and composed what would eventually become
my first album. I recorded this album in 1996, "Viaje a un Nuevo Mundo"
after I moved to Los Angeles. I had lived and accumulated such an intense
bit of life experience, that it took a while for me to synthesize it into a
coherent CD.
In 1997 I won first prize at the Stostenberg International Classical Guitar
Competition and that was a big boost for my career. In 96, 97 and 98 I
played at the Guitar Foundation of America guitar festival , known as the
GFA and would do half and half concerts. First half classical second half
flamenco. In 1999, i composed my first flamenco guitar concerto entitled
"Ensueño Flamenco" for guitar and orchestra and premiered it in Jordan Hall
in Boston with the Boston Modern Orchestra Project. It was an exhilarating
experience to write flamenco for and orchestra as well as the guitar. The
challenge of translating the aural tradition of flamenco into the medium of
a symphony orchestra was both humbling and inspiring. I performed it
several more times since in Los Angeles and in Israel. I most recently composed and
premiered my second concerto called "Paisajes".
I love collaborating with different musicians of many styles. I have
collaborated with saxophonist and flautist Yusef Latif and the Atlanta
Symphony, as well as with Jazz Bassist Buster Williams by fusing flamenco
and jazz. I have collaborated with Middle Eastern musicians such as Persian
Santour players, oud Players and Turkish Nei players. Flamenco lends its'
self to many such mixtures. I was recently invited to play at the Calcutta
International Classical Guitar Festival in India, where besides playing my
own solo concert, was spontaneously invited to sit in a concert of Indian
musicians and play a tune of theirs and improvise on, and we did a flamenco
rhythm form called Seguiriya and mixed it up between an Indian raga and the
flamenco scale. It was very well received. The audience connected very
naturally to flamenco and the fusion of both styles since the gypsies
originally came from Rajastan, India. The rhythmic aspect of both musical
styles is a common denominator even though flamenco developed into some
very different than India music, by intermingling with Arab, Jewish and
Andalusian music.
In 2006 I joined the specialized instrumentalist team for Osvaldo Golijov's
opera, "Ainadamar". The opera requires a guitarist that can both play
flamenco and classical and read music and follow a conductor. Three or four
different disciplines that usually don't come together in one package. I
was called by Mr Golijov in order to do the recording debut of this piece
with Deutsche Gramaphon and the Atlanta Symphony, with Soprano Dawn Upshaw,
Jessica Rivera and Alto Kelly O'Connor, conducted by Robert Spano. The
opera won two Grammies in 2006. This was a unique learning experience and a
great opportunity to meet and learn from great musicians out side of the
guitar world. I performed "Ainadamar" in Carnegie Hall and Lincoln Center
in NY, Chicago, with the Chicago Symphony, in London and many more, and
last summer for the 60th anniversary of the Festival de Granada.
You're definitely an extraordinary educator. What do you feel makes for a
great guitar teacher?
I have been teaching at the Thornton School of Music at the University
of Southern California, USC for the last 10 years. I am on the faculty of
the studio jazz guitar department. I teach classical and flamenco there to
some of the most talented kids in the country. I also have a teaching web
site at www.newlearningvision.com where I teach on line flamenco lessons. I
cover every thing from technique, to building flamenco theory and
understanding skills to showing the beginnings of composition and
improvisation in various flamenco forms.
My learning process has been very unconventional and non linear for the
most part. I was undisciplined as a kid and grew up as a child and as a
musician in a very wild way. This isn't for every one. It took me many
years to make order of my chaotic learning process but it gave me unique
insights into the more subtle aspects of music that one doesn't learn in
music college. I try to transmit that to my students as well as a strong
dose of rigorous technical and traditional musical concepts and relate the
pragmatic with the more abstract and imaginative and intuitive.
How much of great guitar playing do you feel is innate talent versus
learned skill? Can one compensate for the other? For example, some players
have a high comprehension for groove, while others may be equally (but
inversely) talented with technique. Do you think unique dynamics of
individual personality type plays a role in ones developmental trajectory
as a player?
When I came to the US, I was amazed at the whole "How to...." books.
There is a strong influence in the music world from the self help culture,
so there is a strong impulse and feeling of
"any body can do it". This is one of the things that distinguishes
Americans from Europeans. Americans in General, have a more "can do "
attitude and they are more willing to try some thing new than most cultures
I've been in touch with. Because of that I curiosity I was inspired to
develop ways to understand how different people learned, thought,
functioned and assimilated information according to their ability and
background. It lead me to believe and i saw results, that with good quality
and highly individualized teaching from the teacher, and a hard working
attitude from the students, wonders can happen. Talent, on the other hand
is a whole other phenomena. You can have technical or mechanical ability,
musical sensitivity etc, but if there is no will power, passion and
discipline, it will only go so far. A child prodigy is some one that has
all this talent plus an emotional maturity to be delay gratification and be
disciplined by sticking to the right process in a focused way. So, there
are many degrees and shades of Talent vs Nurture.
Mind going a gear rundown, the instruments/strings/setup you play?
I play guitars by Manuel de la Chica 1963 and 53 from Granada and
Francisco Manuel Diaz, also from Granada. I also play a Hans Pukke from
Santa Barbara.
AS for amps etc, since what I do is mostly acoustic, I'm not not much of a
"gear head" but playing with my flamenco band and with a symphony orchestra
I have always struggled with volume while maintaining sound quality. In the
premier of Paisajes I used an amp by Acoustic Image, and it sounded
spectacular. Load and musical with plenty of dimension and warmth but not
fuzzy.
Who are your musical influences, past or present? Anyone playing today
that more people should know about?
My musical influences are enormous. As a kid ( of what I can
consciously remember) I would listen to Ray Charles, Jimmy Hendrix, Deep
Purple, Segovia, Sabicas, Paco de Lucia, Camaron de la Isla, John Coltrane,
Ravi Shankar, Daniel Barenboim, Julian Bream, and that's just by age 9.
Paco de Lucia, of course, is my hero and my inspiration, but my Maestro is
Pepe "Habichuela" from Granada. He is my biggest mentor. I still visit him
regularly in Madrid, where he lives now and we jam together and he just
playes form me and I follow and then do it my way. After I come back, i
just play and try to remember what I did with him and new things come out.
He is amazing, a true artist.
Five albums. What are they?
My five albums would be: Fuente y Caudal by Paco de Lucia, Amandeli by
Pepe Habichuela, Julian Bream's plays 1st and 2nd Lute suite by Bach, I
believe in Spring time by Bill Evans and all of Camaron de la isla's
records. He is the greatest flamenco singer of all time and greatest singer
...... Period. I have never heard some with such a voice , talent, soul and
genius.
Favorite city in the world?
Granada.
Shoutouts, venue dates, etc?
Los Angeles Flamenco Festival, March 25, 2012 at the Redondo Beach
Performing Arts Center. I'll also be playing again at the Teatro Real in
Madrid, with Madrid symphony, the opera "Ainadamar" by Osvaldo Golijov.
from July 8-22, 2012.
«
Back To Home