Some fingerstyle guitar players need no introduction. To kick off 2011, we present an interview with one of them. Our featured artist for the month of January- one of the best guitar players and composers, ever- Mr. Don Ross...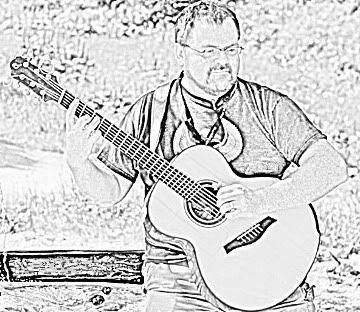 ------------------
What artists/bands do you dig outside of fingerstyle?

My tastes are pretty eclectic. Truth be told, I don't actually listen to a lot of fingerstyle guitar. Here are some of my faves, including some of the albums by them that I particularly love:

Keith Jarrett (pianist): The Köln Concert, Dark Intervals, The Melody at Night With You
Gentle Giant (prog rock): Free Hand, The Power and the Glory, Interview
Steve Reich (composer): Music for 18 Musicians, Tehillim
Pat Metheny (guitarist/composer): The Road to You, First Circle
Lena Willemark & Ale Möller (singer & multi-instrumentalist): Nordan
Jaco Pastorius (Bassist): Jaco Pastorius, Word of Mouth
Joni Mitchell (musician/artist): Mingus, Hejira
Prince (musician): almost everything he's ever recorded
Bruce Cockburn (guitarist/singer): Life Short Call Now, Night Vision, Charity of Night

Most every fingerstyle artist has a 'moment' somewhere in their musical roots when they heard a song that inspired them to explore the instrument further, beyond strumming chords and ultimately, arrive at where they are today. What would you say your 'Fingerstyle Ah-Ha Moment" was? Who was the artist, what was the song?

When I was 14 I bought an album by Canadian singer/guitarist Bruce Cockburn called Night Vision. The first tune on the record is a Celtic-style instrumental called "Foxglove." I nearly spontaneously combusted on the spot. I must have listened to that tune a billionty times, and I learned it off the record one afternoon, after figuring out the tuning he was in (Open C). I remember thinking at the time, "I like THAT! I wanna do THAT!"

If you hit the Megaball lotto, would you still tour as much?

Well, I have to say that I both love and don't like touring at the same time. 95% of my shows have gone very well throughout my career, and they give me boundless creative energy and, of course, major ego strokes...which we all need and live performers are lucky enough to experience regularly (if they're any good!). The other 5%, which can be a drag for any number of reasons (poor promo, bad weather, lousy sound, stupid venue or festival, etc) are sometimes enough to make me want to do something else, but that feeling usually wears off within 24 hours and I put things back in perspective. It's become much more arduous being a touring musician (people don't buy records like they used to, the airlines make it increasingly difficult to check your bags and now they damage and lose them an awful lot more...which used to be a much rarer occurrence), and I'm in the middle of my third decade on the road. Some musicians who have been at the game this long can afford roadies and entourages so that they don't have quite as much wear and tear on themselves on the road. But solo guitar has always been a strong, but niche, market. So I tour much as I always have, schlepping my own gear, driving my own car, travelling alone for the most part. But, I have to say, when I'm the middle of a live performance and the audience is stoked, and I'm playing well, I feel like I've got the best job there is and that nothing could stop me from doing this...not even the Megaball (whatever that is!).

There seems to be something in the water in Canada, but man, what amazing pickers have come from the great white north! Even on this site, we get a disproportionate amount of user interest originating from Canada. How supportive are Canadian audiences of the fingerstyle art, relative to other countries?

I think that Bruce Cockburn (whom I mentioned above) was my major influence in the fingerstyle world, especially at an important phase in my personal development as a musician. He certainly inspired me greatly, much more than any other fingerstyle guitarist. Being Canadian, he has a certain point of view in both his music and his lyrics that I think are appealing to many Canadians. Our popular music has always see-sawed between really loud stuff (Canadians are unabashed rock-n-roll addicts) and the more cerebral acoustic stuff. I personally love both. So does Bruce (he's made some very loud records over the years). But the quality of his musicianship has always been something unique. That spoke volumes to me, and is most likely the reason I've relied primarily on the acoustic guitar to make my musical point. But for me, it's about the music, not because it's played on the guitar. But the guitar does have an undeniable appeal (it's the world's most popular instrument, both to play and to listen to), and it's portable and sounds fab. It's also something of a little orchestra. I think all those things have inspired me.

For many years, I was really the only full-time fingerstyle acoustic guitarist in Canada, but now there's this new crop of players from Canada who seem to have been inspired by what I do (they tell me to my face, too, so I guess I have done the field research...heehee). So, I see what players like Antoine Dufour and Ewan Dobson (and others) are doing to be an extension of that Canadian sound that seems to have originated with Bruce and continued through me. And that's an honour, believe me!

As big fans of acoustic music in general, I think my Canadian fans have been very supportive, right since the beginning of my career.

We noticed in a new video you've adopted a more 'trimmed' look. Did cutting your hair cause your powers to diminish in any way?

Ha! My long hair was something of a security blanket for many years (I had long hair since age 9). I was always much more comfy with lots of hair. I guess it helped me hide to a certain extent (I'm a friendly, but kind of shy, person). As I made my way through my 40s recently, my hair stopped co-operating. Gone were the soft curls of yesteryear and here were the straw-like greys that come with...um...wisdom (yeah, that's it!). So, it was time for the scissors to come out. Fortunately my wife Brooke is a really good barber, so she keeps the flyaways in check! I was relieved to find out that I could still play without a large mop of protein on my scalp, but the whole respectable thing took some getting used to!!

Lets say you were embarking on an open-ended leisure tour of North America with no tour dates or obligations of any kind. Would you rather fly from place to place, thus spending less time traveling and more time exploring the destination, or would you rather take a train, seeing more scenery along the way?

I fly most of the time with my job, so the chance to travel by train is always a welcome change. I've experimented the last few years with touring by train in Europe, where (let's face it) they have their train act way more together than we do in North America. I love it in every way, except for having to get all my gear on and off the train (not fun). I also love the leisureliness of it and the fact that you can get work done if you want, or you can just stare at countryside and small towns out the window if you like. I'd say, given the time and the inclination (and ONE piece of luggage), I'd love to travel the slower way!

What are your hobbies and interests away from guitar?

Most of my time when I don't actually have a guitar in my hands is spent doing something relating to my music, like updating websites, tabbing out music, etc. I also am a part-time guitar professor at one of the local universities here in Halifax. So I actually have very little down time. I love riding my bicycle, which I can do almost year-round here in Nova Scotia. Both Brooke and I love to cook, and sometimes we turn life off and just spend several hours preparing slow food together, which is creative, sexy and beautiful. I have a very close relationship with her and our wonderful teenage daughter. None of us has time for TV, so we haven't owned one in many years. We just stay active and try really hard to enjoy spending time together.

Disregarding whatever imperative exists for 'humility', please answer this as honestly as possible... Given the level you're at right now, can you envision yourself actually getting 'better' as a player and composer to any sort of meaningful degree?

I'll be candid and admit that I don't really feel like my technique is getting measurably better. What I focus on instead is using the abilities and tools that I have to try to create new sounds...which means my output of new music is actually much slower these days, but perhaps more carefully considered. I don't really feel like I have anything to "prove" anymore, so I just seek to create as much beautiful groove as I possibly can.

If you're ever in Chicago, can we hang out?

You got it.

If you were offered the position of Benevolent Dictator of all Planet Earth, would you be interested? What changes would you make?

God, no. Too much work and worry and everyone hates politicians. Maybe I could be an adviser to the Dictator. I'd encourage the World Government to cut military spending by 99% and channel it into feeding the planet non-junk food and teaching it music. We'd be a happier and healthier place, and there wouldn't be so many guns and bombs lying around tempting us to use them.

I'd also advise Her or Him to legalize all drugs in order to reduce the number of criminals killing people for the sake of getting pot to rich people (and I say this as a lifetime abstainer from all illegal drugs) and start treating addiction as the public mental health issue that it is and stop throwing mentally ill drug addicts in jail for being sick.

I'd also advise that we start an education program from the earliest ages to encourage people to stop putting up meaningless boundaries of nationality, race and religion. Maybe that would be the greatest achievement of a single World Benevolent Dictatorship. ;-)
«
Back To Home